Discover further processes and develop them together with us
Through our network, we have access to many other processes such as the electrospinning of polymers. In addition, we are constantly developing and working on new technology in the field of polymer materials with commercial partners and equipment manufacturers.
Maximum voltage [kV] 60
Maximum flow rate [ml/min] 2.56
Characteristics
Up to 4 nozzles can be used simultaneously
Location: University of Bayreuth
Maximum grid electrode voltage [kV] 12.5
Maximum corona needle electrodes voltage [kV] 35
Location: University of Bayreuth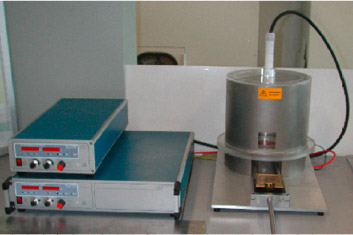 The laboratory-scale flatbed laminating press is a double belt press with integrated contact heating and cooling. The materials to be laminated are gently heated in the process. The length of the heating zone results in a relatively long dwell time in the laminating press, which leads to optimal bonding with high levels of adhesion. Immediately after the heating zone, the laminated material can be pressed with the calender rollers or calibrated to a desired final thickness. To stabilise this bond, the laminated material is cooled down while still inside the laminating machine. Due to the flat throughput and the precise height adjustment, even solid sheets up to a material thickness of 15 mm can be laminated.
Laminator RPS-L 600
Working width [mm| max. 580
Throughput speed [m/min| 0.5 – 7
Pressure laminating roller [N/cm²| 0 – 40
Press roller gumming [Shore A| approx. 70
Level adjustment [mm| – 3 to + 5
Height adjustment [mm| 0 – 25
Heaters, 2 each for
top and bottom heating [control zones] 4
Continuous operating temperature
of the machine (heating) [°C] max. 200
Short-term operating temperature
of the machine (heating) [°C] max. 230
Processing temperatures [°C] up to 400
Cooling top and bottom with cooling water
Location: University of Bayreuth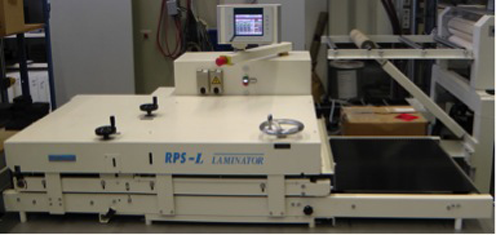 FURTHER EQUIPMENT AND TECHNOLOGY